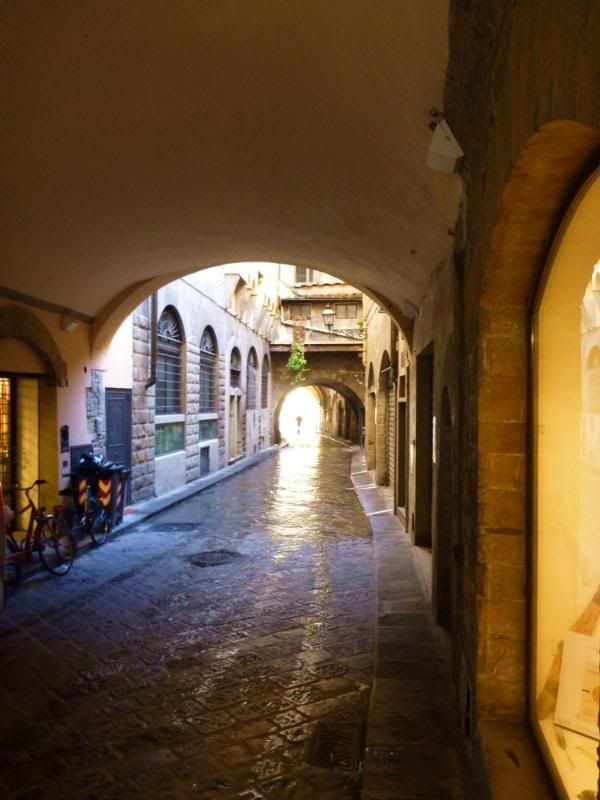 My kryptonite is totally "Eat, Pray, Love." The movie AND the book! In every way.

It's the story of a woman who has a crisis of the soul ("mid-life crisis" is too trite and a not quite strong enough a term to describe it), and upends her entire life. There's a divorce, an identity crisis and a torrid love affair in rapid succession, none of which is good for her and all of which were probably vitally necessary for her personal growth. So she decides to quit her job and spend time in Italy to learn the language, and then move on to India to live in an ashram and then travel to Bali to find herself spiritually. The book (and the movie for that matter) is a little too precious at times, too self-aware on the level of "I'm living my own Ya-Ya Sisterhood all by myself!", and yet it's the underlying theme itself that calls to me like I cannot explain.


anita_margarita, herself a bit of a siren in my life, loaned me the book and said she thought the parts about Italy would appeal to me. She wasn't kidding, not by half. I have discovered that even though I can't really relate to the author on practically any level, I understand what she's getting at. I also discovered that I can only read about two or three pages before I want to set down the book with a scowl, stare at my car keys for a moment and walk out of my office never to return. I imagine, in vivid detail, the conversation with my boss, the discussion with my family, the talk with Chris, the cashing out of my retirement accounts and then finally placing sheets over all of my furniture in my house, like they do in the movies when the master leaves the manor for an extended period.

I can imagine all of it. I imagine my family saying, "Mattie, are you crazy??" I imagine Chris and Barbara saying, "Go. Go now. You may not get another chance. We'll come find you when you're settled." Melissa/Cindy/Cathy would say, "Fly, you fool!" And Miss Expatria already beckons like a ghost from across the pond, whispering "Come. We have gelato and wine."

Even watching ten minutes of the Julia Roberts film version of "Eat, Pray, Love" is difficult. In the book I can only imagine the things I'd be seeing. In the movie I actually see them. She stands on a terrace as the sun sets over Rome, in the distance are the green hills north of the Vatican, with a look of trepidation and contentment on her face. That scene all by itself makes me want to check my account balances and pack a bag.

I don't think for one second that I'm as tragic a figure as that writer (or Julia Roberts even). I don't imagine that my life is a heavy coat that must be shrugged off and thrown to the floor with a sneer. I've got many wonderful things in my life here that give it meaning and purpose and value, and lots of people who care about me. Still...still.

I want to be able to move to Italy and find a charming dive to live in, with a grocery store nearby where the people recognize me and smirk when I ask for a "cat's ass", when what I really need is some laundry detergent. I wouldn't mind finding a Marco to take me under his wing like Miss Expatria did, but she hit the lotteria and I suspect the universe isn't so kind as to provide an opportunity like that again. I want to learn the language and have a favorite kind of pasta and walk the streets with my head held high knowing that even though I'll never be mistaken for an Italian, I will always feel like one on the inside.

Perhaps I'm over-romanticizing it, but I suspect I'm not because I know exactly how badly I would love to do what she's done (minus the Indian ashram or the spiritual center in Bali). As the author is studying Italian, she learns the word "attraversiamo" which means "let's cross over", like when you cross a street with a friend. It's a simple concept but loaded with so much meaning, particularly when you're looking for something that means exactly that. I want to cross over, and the street would actually be the size of a continent plus an ocean, but it still fits.

I have to stay away from "Eat, Pray, Love" or I am going to end up a cautionary tale for others. I don't even particularly care for the book or the movie but...ugh! How does she make me crave changing every single thing in my life? Perhaps I shouldn't tug too hard on that thread.

I know this post is a little rambling and random, but I just had to figure some way to get these words out of my head so I can get back to being content with my ordinary, beige life in my familiar world. As long as I can still get away every so often and have a taste of Italy I think I'll be okay. Probably.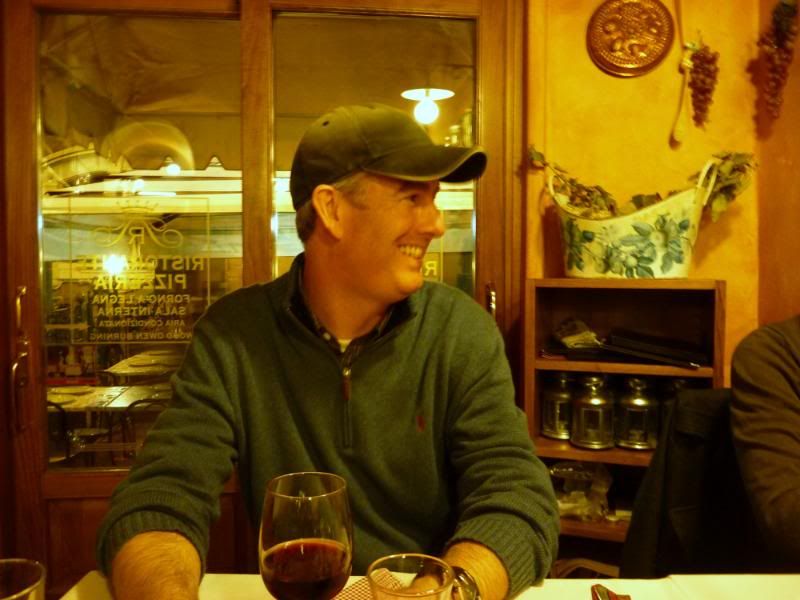 (I know, I know...a hat at dinner. I wish I could take it back. But the moment is perfect)
Current Mood:

discontent